Two projects of development of the spa resorts in Bulgaria, Community of Sapareva Banya, Panichishte.
Location: West Bulgaria, Rila mountain, 72 kilometers from Sofia modern Struma motorway (Sofia – Greece).
Resort factors:
Highlands (with the availability of well-equipped ski slopes and infrastructure).
Location in a green area of ​​Europe, in the natural park Rila Lakes.
By coniferous forests.
Thermal springs.
Climatic factors (mild climate).
Objects are located in the foothills and mountain areas, one – in a relict pine forest. Fully ready infrastructure for the organization year-round recreation. Winter - ski resort, at other times of the year – walks and hikes of different categories of difficulty and the possibility to practice sports. Объекты находятся на пути европейского туристического маршрута Е 4. All seasons recreational bathing and (or) treatment in thermal springs.
If desired, the investor can revise projects, в соответствии с собственной концепцией.
КУРОРТНЫЙ КОМПЛЕКС « Паничиште». Расположен в горах, on high 1400 – 1600 m above sea level.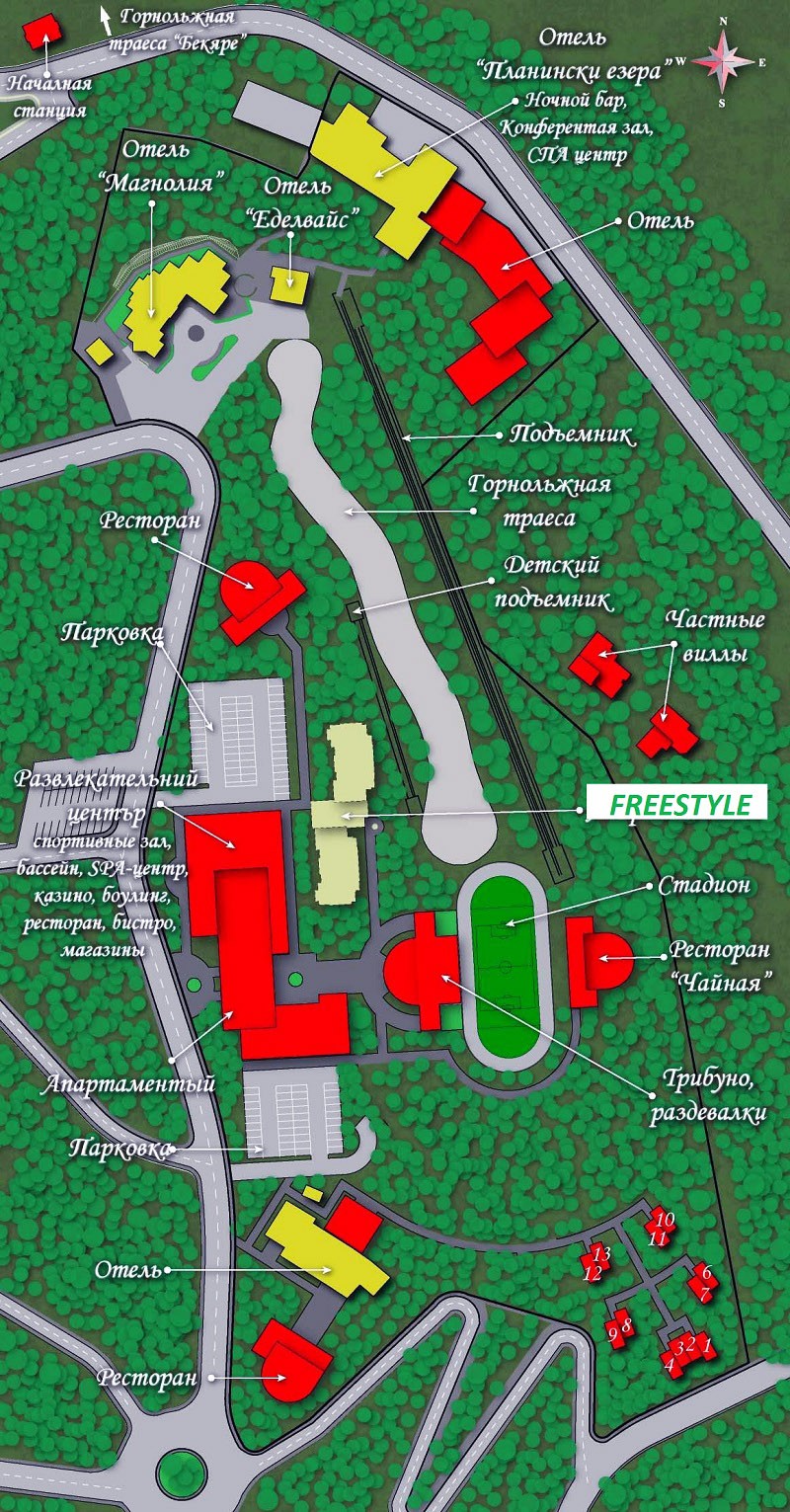 .
The characteristics of the terrain and resort factors are described in the article САПАРЕВА БАНЯ,
the section "about Bulgaria».
See. на схеме: расположение объектов курорта. Земельные участки находятся в собственности. Part of the objects constructed by new modern projects, part-completely renovated. All objects were put into operation, operate hotels and restaurants, There are lifts, ski slopes ( on high 1600 – Stadium. ( here on one pictures the object, and active object name – for transition ). Each object is completely self-sufficient, but at the same time – they are United by a common idea.
Holiday resort complex "Aquarius" , terrain Sapareva Banya.
The complex is located in the scenic foothills of RILA, the okraine goroda SAPAREV banя (population – 4 thousand. residents).
The complex is under construction.
Consists of: individual houses and aparthotels «Aquarius». The draft provides for the possibility of the construction of the Aqua-Park. One of the projects, aqua park in the form of an Egyptian pyramid, won in 2009 was awarded "Project of the Year". The land for the project was purchased in property.